Adult webcam website Stripchat have made an audacious offer to have Everton's new £500 million stadium be named 'the Stripchat Sustainability Stadium'.
Everton are currently in the process of developing a brand new 52,888-capacity stadium at Bramley-Moore Dock in Liverpool, with the state-of-the-art facility due to open for the start of the 2024/25 Premier League campaign.
It will, of course, replace Walton-based Goodison Park, Everton's beloved home since 1892.
The venue will include a home stand that can hold 13,000 passionate Evertonians behind the goal.
And if safe standing areas in the Premier League are introduced, the stadium will also feature two further 'lower tier' stands, meaning a potential attendance of 62,000.
So what will the Everton's new home be called? Well, US site Stripchat have contacted the website Prolific North to confirm its interest in purchasing the stadium naming rights.
They said: "With news that Everton is seeking naming rights for its new $566 million stadium, Stripchat is officially extending a 10-year, $20 million-per-year offer to have the stadium named the Stripchat Sustainability Stadium."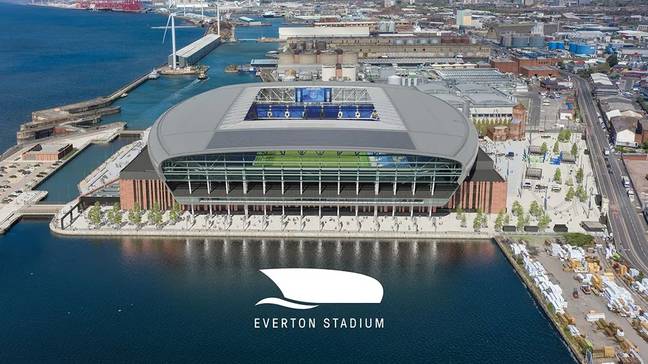 Max Bennett, Stripchat's VP of New Media, has also released a statement about the big-money offer.
"Stripchat has officially extended our offer to Everton to be the official naming partner for the club's new stadium," he said.
"If our bid were to be accepted, we would make a concerted effort to make 'Stripchat Sustainability Stadium' the most progressive, responsible, and sustainable stadium in the world."
Stripchat says it would ensure the stadium limits carbon output, and will be used to host events of importance to the company, including sexual health events during "No Nut November".
Last year, the Toffees gave us a sneak peak of their new 'world class' stadium by posting the below footage online.
Like the intentions of Stripchat, Everton plan to make their new stadium the most sustainable stadium in England's top flight.
When the build is eventually complete, the stadium will harness sun, wind and rain to create green energy and reduce traditional energy consumption.
It is estimated that the stadium development and plans for a Goodison Legacy will deliver a £1.3 billion boost to the economy, according to the club's official website.
It will also create more than 15,000 jobs and attract 1.4 million new visitors to the city.