Jose Mourinho Driving The Roma Parade Bus Himself, And Nearly Crashing, Is 2022's Funniest Moment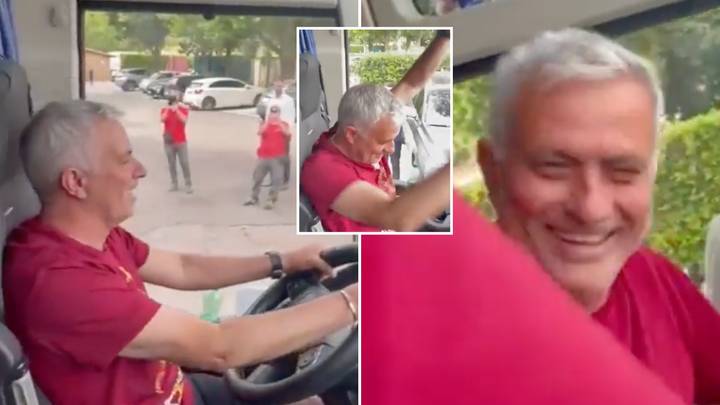 Jose Mourinho was allowed to drive Roma's parade bus before their Europa Conference League victory parade started and he had the time of his life. Check out the footage below.
Nicolo Zaniolo scored the only goal of the game to seal the Serie A outfit's first European trophy and the fifth of Mourinho's career.
Prior to parading the trophy around Rome on Thursday, Mourinho was given the chance to take the wheel of the team bus.
Mourinho was happily driving along as his players sang his name from the backseat until he abruptly stops.
A police motorbike appeared in front of the coach and forced the former Manchester United manager to slam on the breaks, before breaking down in a fit of laughter.
One of Roma's first-team coaches them walks in front of the bus with the most confused face you'll ever see.
Fans online have reacted to the video and they're in absolute stitches.
Someone tweeted: "That's genuinely too funny, he almost crashed it."
Another put: "No better man to park a bus. How do you not love this guy?"
While a third said: "For some reason I can't stop watching this. Jose is living his best life."
Mourinho's worked with a few English players during his time at the Stadio Olimpico, including Chris Smalling, Ainsley Maitland-Niles and Tammy Abraham.
"One thing I said when I came here was I was going to help the team get to the final and one day I want to win a trophy. In my first season I have achieved that," the 24-year-old told BT Sport.
"Credit to my team-mates, excellent performances. We deserve it. We have worked hard all year.
"I love them (the fans). From day one I came here it has been the best.
"We are champions, I am happy to be a part of the team, now it is time to celebrate and enjoy."