Karim Benzema praised for Real Madrid 'respect' while Barcelona and Atletico Madrid captains slammed
Real Madrid are on a roll after winning three successive games since defeat to Barcelona – but they're gaining respect for their actions off the field, too.
Karim Benzema has been widely praised for displaying the pennants of Barcelona and Atletico Madrid in pre-match photographs, while the captains of those two teams hid Real Madrid's pennant behind their backs.
It has been an up and down campaign for Carlo Ancelotti's side, although they are still in the hunt for La Liga title, trailing Barca by three points with less than half the season played.
The two El Clasico rivals recently faced off in a Spanish Super Cup clash in Saudi Arabia, with Xavi's side producing a magnificent performance to win 3-1.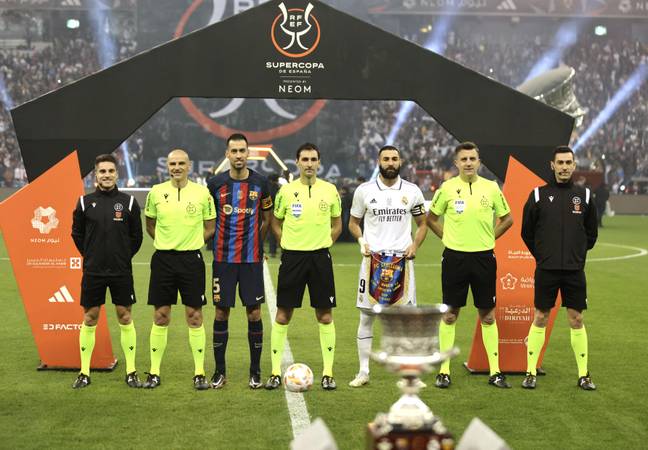 Benzema, however, has been lauded for showing class as opposed to Real Madrid's two fierce rivals while posing with the officials before games. Los Blancos beat Atletico 3-1 on Thursday night in the Copa Del Rey.
Many fans piled into the debate on Twitter, with the word "respect" bandied around with regards to Benzema.
The Madrid skipper was happy enough to display the Barcelona and Atletico emblems, unlike his opposite numbers Sergio Busquets and Koke.
They both hid the Real Madrid pennant behind their back.
One Twitter user said: "Atletico condemn their fans' actions then their captain pulls off something like this. Hypocrites."
Another Real fan added: "Football is about respect…these clubs seem to be losing that touch. Proud to see Real Madrid and our captain Benzema setting the right standard."
Benzema hasn't addressed the issue, but reflected on the morale-boosting derby win over Atleti.
"It was a tough match against very good opposition," he said. "The character of these players and our talent inspired us to complete the comeback. It was amazing.
"Now it's time to rest up and turn our attentions to the next game."