Not even Kevin De Bruyne thought he deserved Player of the Match award after Belgium's win vs Canada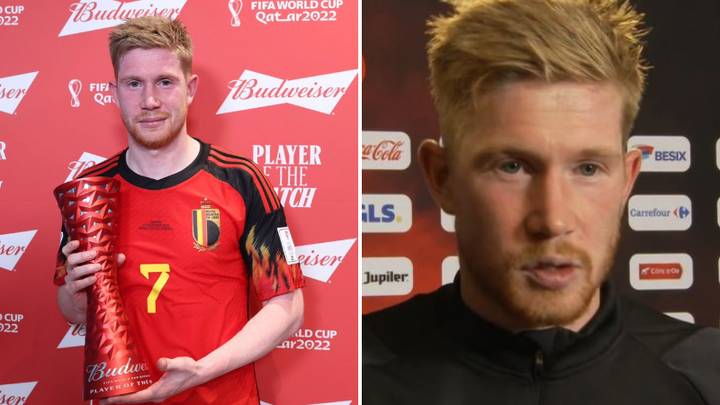 Kevin De Bruyne joined everyone else in questioning why in the world he was named Player of the Match in Belgium's World Cup opener.
On Wednesday evening, Roberto Martinez got their latest tournament campaign underway, as the Belgians are given one last chance to make the most of their 'golden generation.'
They faced a Canada side making their first appearance in the tournament since 1986, and only the second time the men's team had got into the finals in their history.
The Europeans came out on top with Michy Batshuayi grabbing the only goal of the game, but it was far from as easy as they'd have hoped.
Canada won a penalty in the first half, with Thibaut Courtois saving Alphonso Davies' effort, and denying him the chance to be the country's first ever male World Cup scorer.
Whilst Batshuayi got the winner, at the end of the first half, Canada kept attacking their much higher ranked opposition and were unlucky not to make their own breakthrough.
Canada were arguably the better side, and they certainly weren't any worse than Martinez's side, who couldn't really get into their stride.
De Bruyne was particularly off form, especially for one of the best midfielders in the world, and didn't have his usual impact on a game.
However, that didn't stop the Manchester City star being awarded the official Player of the Match award, something not even he was convinced he deserved.
"I don't think I played a great game, I don't know why I got the trophy. Maybe it is because of my name," he said during his post match interview.
"How can De Bruyne sleep at night knowing he willingly accepted that man of the match award?" One fan who obviously hadn't heard the player's comments yet questioned.
"Kevin De Bruyne getting Man of the Match tonight is absolutely hilarious. The guy is on another planet but he was practically non-existent in that game," another account commented.
A third fan commented during the game, saying, "Bloody hell, De Bruyne's having an absolute shocker…"
Another was very happy with the former Chelsea man's honesty, saying, "De Bruyne was far from his godly self tonight but respect for saying this. Takes guts, self-awareness and humility.
"Sad that this is a revelation these days and a scarcity in modern football, I feel."
"Kevin De Bruyne hasn't arrived in Qatar yet! What an awful display so far. Can't get a single pass right," another noted.
The midfielder was full of praise for his opponents on the night, adding, "We didn't play well enough as a team. Credit to Canada. We could not get through their press, we did not play a good game today, me included but we found a way to win."