Man Utd could 'break tradition' and offer Alejandro Garnacho a special contract clause nobody else has
Manchester United are prepared to hand Alejandro Garnacho a contract clause nobody else at the club has.
Garnacho's current contract runs until 2024, but the Red Devils are keen to tie him down to improved terms after bursting onto the scene.
The winger is set to sign a long-term contract worth £32,000-per-week according to Simon Bates of the Daily Mirror. That's an improvement on the initial £20,000-per-week Garnacho's representatives rejected.
United's hierarchy are ready to go one step further to satisfy Garnacho. The youngster is a Spain youth international, moving to England from Atletico Madrid in 2020.
Real Madrid have registered an interest in Garnacho, who is also eligible to play for Argentina. To counter that, United are hoping Garnacho will sign an eight-year deal. He'd prefer to sign a four-year one, per the report.
United are willing to compromise by including a release clause in the teenager's contract. No other player in United history has had a release clause to public knowledge.
Ten Hag believes Garnacho's talent needs nurturing and doesn't think he's the full package yet.
During pre-season, he internally disciplined Garnacho for arriving late to training, which Bruno Fernandes alluded to following a victory over Real Sociedad in the Europa League.
Following last weekend's victory over Manchester City, Ten Hag discussed Garnacho's development throughout this season.
The Dutchman explained: "He has improved a lot in attitude and all-round play and he has a skill that I don't see many players in the Premier League having: he beats players one on one.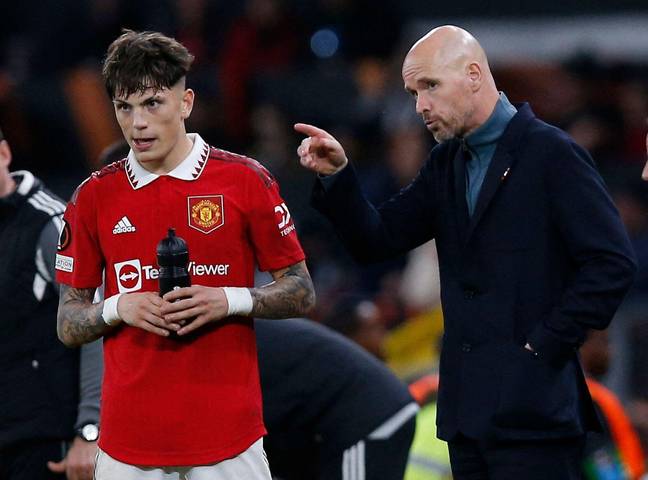 "You now see how he's acting as a team player, and with his individual skills, that can make the difference. For him, it's to keep going in the process because it's not done. But there is a lot to come."
United are currently third in the Premier League. They missed the chance to leapfrog City into second, albeit temporarily on Wednesday evening after drawing 1-1 with Crystal Palace.
They return to action against league leaders Arsenal on Sunday afternoon. Garnacho could be in line to start as United wait for an update on Anthony Martial's fitness.