Paddy the Baddy lost a bet to a Manchester City fan, pays up in coins
UFC star Paddy Pimblett has been forced to pay up a bet he had with a fan, but only after he was called out on Instagram for being a 'scruff.'
Paddy 'The Baddy' is one of the most entertaining fighters in UFC right now, with fans absolutely on board with everything the scouse star does.
In the octagon he's winning acclaim with three stoppage victories in his first three fights in the UFC, and his most recent one even helped Drake win $1.5 million.
When it comes to his own gambling however, Pimblett hasn't had so much success, losing after placing a wager on social media with a fan.
In his newest post, the 27-year-old showed that he bet with one fan over the winner of last season's Premier League title, picking his beloved Liverpool, betting against the fan's pick of his Manchester City team.
City of course went on to win the league, by a single point, leaving Pimblett out of pocket for a 'oner,' £100, which he was called out to pay.
With the winner of the bet calling the MMA star a 'scruff,' the Reds fan decided to get revenge, by paying him all in coins.
Having won at UFC London in July, the former Cage Warriors champion revealed that his friend had died in the week leading up to the event.
"Ricky lad, that's for you. There's a stigma in this world that men can't talk," he said in an emotional post fight interview.
"Listen, if you're a man and you've got weight on your shoulders and you think the only way you can solve it is by killing yourself, please speak to someone. Speak to anyone.
"People would rather... I know I would rather have my mate cry on my shoulder than go to his funeral next week. So please, let's get rid of this stigma. Men start talking."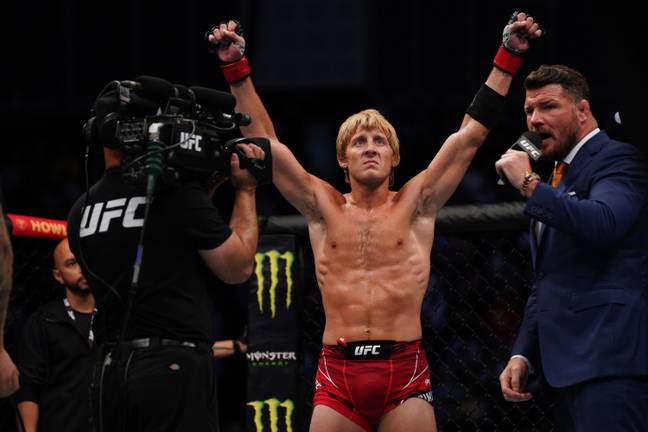 Pimblett also has issues with his weight between fights, often ballooning above his fighting weight, before managing to cut it before a weigh in.
"The weight cuts, dieting, I genuinely think I have a bit of an eating disorder.
"People when they go eat with me they are visibly shocked at how much I can eat."