Paul Scholes Reveals Huge 'Mistake' He Made In His Legendary Manchester United Career
Manchester United legend Paul Scholes believes that he made a major "mistake" by continuing his career after Manchester City won the Premier League title in 2012.
The Red Devils were locked in a heated title race with crosstown rivals City in the 2011-12 season, with the Premier League champions crowned on the final day of the season.
Sir Alex Ferguson's men had defeated Sunderland 1-0 at the Stadium of Light, only to nervously wait for the outcome of City's clash with Queens Park Rangers.
City, who were led by Roberto Mancini at the time, came from 2-1 down at the Etihad to seal a famous 3-2 Premier League win.
Sergio Aguero ensured City's first Premier League title with a dramatic injury-time winner, with United left crestfallen as the trophy was snatched from them.
Goal difference ultimately settled the Premier League title race, with both City and United finishing on 89 points in the 2011-12 season.
Scholes initially retired from United in 2011, but he made a stunning U-turn and returned to Old Trafford in January 2012 amid a midfield injury crisis Ferguson faced.
The 47-year-old former United midfielder admitted that he "can't watch" back Aguero's sensational winner against QPR.
"City had to beat QPR at home and that's not a problem, that will happen. We came off the pitch and they are 2-1 down with two minutes to go or something.
Living the boyhood club dream 🔴
Legendary midfield battles ⚔️
Coming out of retirement ↩️

Paul Scholes enters the #WhatIWore dressing room to look back on (and play down) his incredible career!

Every football shirt means something...

🤝 Made with @classicshirts 👕 pic.twitter.com/yX1MxT1Vqq

— Football on BT Sport (@btsportfootball) December 30, 2021
"I can't believe you pulled [that Aguero shirt] out. I can't watch it, can't listen to it."
Scholes extended his contract after United's heartbreak in the 2011-12 campaign and played one more season at Old Trafford.
The former England international lifted the Premier League title for an incredible 11th time in his career before he retired at the end of the 2012-13 season.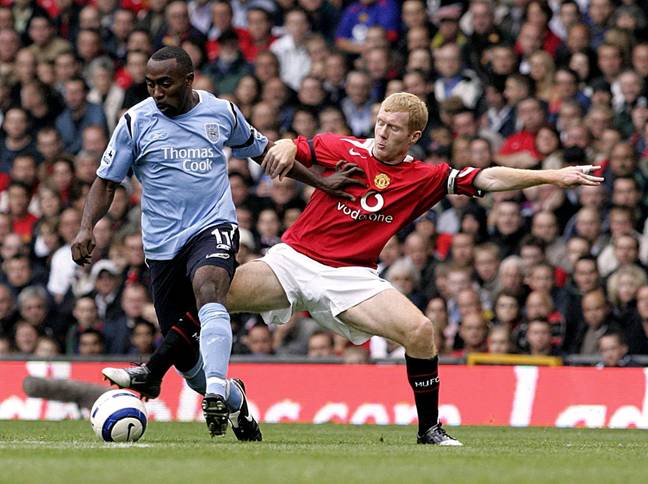 When asked if his outlook on the end of his career might have been different had United secured the league title in 2012, Scholes said: "I'd have carried on. But it was a mistake to carry on. Definitely a mistake.
"I can remember two or three games into that next season I thought, 'What have I done?'"
Scholes spent his entire club playing career at United and scored an impressive 152 times in a whopping 711 matches for the Red Devils.
The former United star amassed an incredible 25-trophy haul at Old Trafford, which included two Champions League titles.