Nick Kyrgios responds to outrage over a photo of him riding an e-Scooter without a helmet
Nick Kyrgios has been forced to respond to critics who have called him out for riding an e-Scooter through Melbourne without wearing a helmet.
Ahead of the opening round of the Australian Open, Kyrgios landed himself in hot water - rightly or wrongly so - when a seemingly innocent picture emerged of him enjoying a peaceful scoot through the streets with his girlfriend on the back.
Except in the eyes of some, it was far from innocent.
Not sure about everyone else, but it's pretty rare to see anyone actually using those huge helmets.
So if this was your average Joe, we probably wouldn't have heard a peep about it – but because it's Nick Kyrgios, it was all over the news.
Upon seeing the tennis star without a helmet on, people pounced on him and were quick to slam him for breaking Victoria's road rules.
One of those who wasted no time in slating the 27-year-old was former tennis player Todd Woodbridge.
Speaking on Channel 9's broadcast, the Aussie said: "It's not a good look."
Before his co-host Tony Jones chimed in, saying: "You never know what to expect from Nick Kyrgios with when he heads into a tournament. You never know what to expect from Nick Kyrgios when he wakes up in the morning."
But not everyone was onboard with the backlash.
Aussie basketball legend Andrew Bogut came out to bat for his fellow countryman, taking to social media to say: "Such a nanny state! Fine him for not taking his OWN safety seriously".
That was before Kyrgios himself responded to Bogut's post, adding: "Nah it's too much now".
Even Victoria Police got involved, releasing a statement which read: "Police are aware of an online image of a man riding a scooter in Melbourne's CBD without a helmet. Although it's unclear when the image was taken, Melbourne Highway Patrol, now that they're aware, will make enquiries in relation to the incident."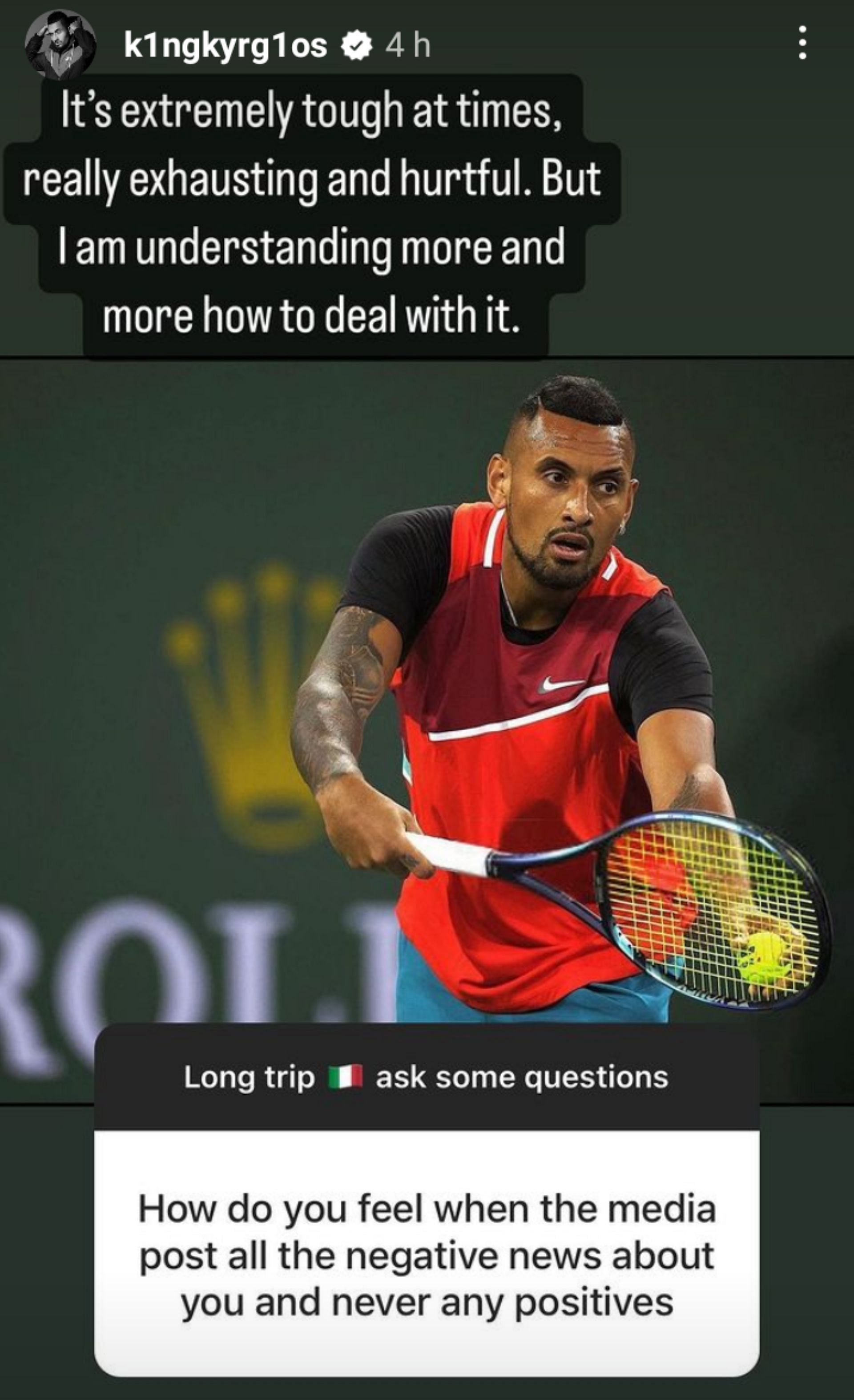 Credit: Instagram
Kyrgios, who has unfortunately become the press' punching bag in recent years, has spoken openly about how he's constantly scrutinised by the public.
In an Instagram story late last year, he said: "It's extremely tough at times, really exhausting and hurtful. But I am understanding more and more how to deal with it."
And in a seperate post, he added: "Played 13 events, finished number 1 in Australia for singles and doubles, MEDIA AIN'T GONNA WRITE BOUT THAT. 2023 energy going to be dark."